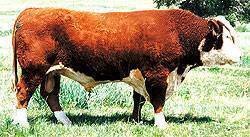 SNS Silver Prairie 50B
March 14, 1992

AGA K58 Stanmore 13X
AGA 13X Britisher 107Z
Miss 55C Std AGA 87T

SNS Generator 28X
SNS Generators Lady 15Z
HAJ Std Dom Lass 13T
Proving His Greatness
62 inches, 2910 lbs.
This renowned, correct, growthy sire caught our eye on our trip to Canada in the fall of 1994. We consider him to be the best bull that we saw than in Canada. He had good feet and testicles, was extremely clean in front, carried meat on top, where it should be. He traveled freely and displayed a kindly disposition. His thick mellow hair coat was the kind so hard to find these days. Each crop of his calves evidence a superior prepotency of quality, and cattlemen appreciate his offspring. We followed our credo of buying the best, whatever the cost! We are proud to make the blood of this world renowned sire available to our customers.