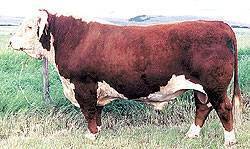 Hall Super Derm Lad 4H
February 1, 1998

LCI ET High Voltage 80S
DW Super Power 84Y
DW Miss Britisher Domino 30K

Dermot Bushman 35M
NJ Dermot Kate 29X
Silver Kelly 11P
Extreme Length
60 inches, 2850 lbs.
"4H" was our pick at the Calgary Bull Sale where we liked his long quarter, extra length, meat on top and big thick rear end. His pedigree is paced with great cattle up close. His Dermot bred dam is an outstanding feminine cow with lots of bone, abundant milk and a perfect udder at twelve years of age. Hall Ranching Co. was a new consignor to Calgary and a number of breeders told us that they had missed "4H." His calves are most useful and closely resemble their sire. Our customers really like him.