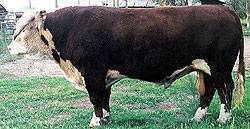 LHHR 74U Ribstone 402D
January 25, 1994

B&H 42L Rib Lad ET 48R
Pyr Rib Lad 74U
Pyr Brit Lady 38P

Volt Lad RHHR 19W
Glesbar Violet 23A
Gles Std Lady 2W
Extra Length and Thickness
63½ inches, 3020 lbs.
We purchased this 1995 Calgary Class Winner for $52,000 because we believed him to be the best calf at his age that we had ever seen. In the main, his bloodlines are outcross to ours, and he offers an opportunity for us to broaden our genetic base with superior heritage. "402D" was probably the longest, biggest animal his age in the breed. His first five sons in our 1997 sale ranked with the very best and compiled the highest average of any sire group. In 1998 and 1999, he again sired our high seller, and each year since then his sons sell with the top. His calves are outstanding and history will mark him as an epic landmark sire.