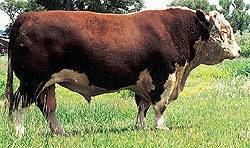 SKB Duracell 30X
March 16, 1988

LRD Electric 50
LCI ET High Volt 80S
LCI 93J ST Lass 102M

Standard Lad 95J
KB Standard Lass 38N
KB Brit Dom Lass 3H
Classic Meat and Muscle
63½ inches, 3245 lbs.
This giant epic bull spoke for himself with his extreme height, thickness and bone. He matured into a massive individual, sporting as strong a loin as ever placed on any bull. "30X" marked our first use of "80S" blood and his purchase came after a prolonged and intensive search for the best. His 2,000 pound plus dam was a daughter of our "95J." She was an outstanding cow with wonderful conformation and perfect udder. "30X" has proven to be one of teh greatest sires in history, throwing the kind of offspring that are in strong demand at record average prices in both the seedstock and commercial sectors.
Owned with Beatch Herefords