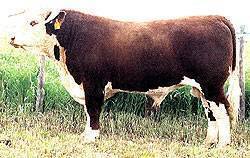 AGA 95 STD 23J
February 15, 1999

Standard B Dom 71B
Standard Lad 95J
Silver S Lady 19C

Bar-OM St Commd Lad 277D
AGA 277D MS Standard 21G
AGA67Z MS Centennial 45E
A Heritage of Greatness
62 inches, 2780 lbs.
In November of 1999, a rancher told Jim Hole that he saw the best calf he had seen in Canada in some time at Urich's. He said he tried to buy the calf, but Ochs Bros. had beaten him to the punch. We bought "23J" to use on heifers. He was a son of our immortal "95J" and out of a most useful, heavy milking cow. His light birth weight calves come easy, then grow fast and show his quality and muscle. He is a strong, relentless, active breeder. We predict that he will have a major impact on our herd in the years to come.