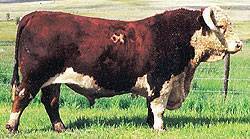 Standard Lad 14Z
March 16, 1990

LCI ET High Volt 80S
SKB Duracell 30X
KB Stan Lass 38N

Brit Comm 1R
Comm Adv Lass 10U
Miss Stan Adv 135
Meat on Meat
63 inches, 3075 lbs.
We have known "14Z" since he was a baby calf. He has been good all his life and has only gotten better. He has heavy, big bone, yet he is smooth and really covers the ground. He has pigmented eyes and scrotum and freckles all over his face. This mammoth has meat on top, where it ought to be. He is a superior animal in every way, and breeds the way a superior animal should breed. "14Z" merits close examination because there are not very many bulls in the world today with his class and quality. He is worth driving some distance to see.
Canadian Interest - Beatch Herefords