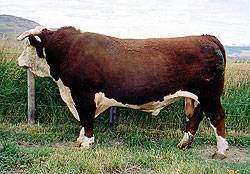 OB Exquisite 062
January 26, 2000

Calgary Ribstone 74U
LHHR 74U Ribstn 402D
Glesbar Violet 23A

SKB Duracelll 30X ET
OB Ms Duracelll 6152
OB Silver Lass 217
Two Great Bloodlines

62 inches, 2990 lbs.
This young genetic giant has the potential to become one of the landmark sires of the breed. "062" is the result of crossing two great bull lines. At every step in his life we felt him to be the biggest and best in his crop. He is the first bull we ever raised to weight over a ton in September before our sale and he was fed the as our other bulls. But, he is not just big. He is thick, deep, long and correct. And he has big straight testicles providing fertility that produced 330 straws of semen on his first draw. He has attracted international interest and we eagerly await his first calves.